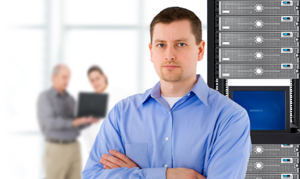 Most everyone can agree that business productivity can be traced to an organization's ability to successfully execute on overall strategy. What else ensures business success?
And, if execution is the key to a successful business—what are the steps to increasing your business productivity for greater execution on your strategic goals?
Using technology to maximize your business productivity creates the platform to realize true business success. Increased business productivity can be traced to the automation of processes allowing for faster communication of strategy, increased time spent on strategic priorities and greater project completion rates. We introduce our clients to new technologies that save them an average of 30 to 50% each year and we've proven that proactively managing your network always costs less than reacting to problems after they occur. We believe that your IT infrastructure should be a profit-center for your business – not a cost center.
Do not neglect your profit-center  – take advantage of our effective services to ensure that you meet your business goals. We will take care of all the roadblocks. YOU focus on the big picture.
If you are new to us, and would like to learn how to improve your IT Support while reducing costs, I'd like to invite you to a free business infrastructure checkup. Whether you need a specific service or our all encompassing Managed Services offering, we provide you with the expertise to make it happen.
At Newport Computer Group, we realize that no two businesses are exactly alike. That being said, why should your business receive a cookie-cutter solution?
No cookie-cutter solutions here. Count on us to think outside the box contact us now!